HAIRDRESSER AACHEN
THE HAIRDRESSER IN AACHEN
With his hair salon in Aachen is Paco Lopez Comino new standards around your hair and makes it into the heart and the spirit of Aachen.
Purism meets elegance
The equipment in the salon Aachen, conveying the impression of spacelessness, which is supported by the mirror effect and running through the spacious parlor. To Grasp ends with a quiet leafy terrace and bar A real eye-catcher are the wonderful comfortable armchair in brown crocodile leather.

THE TOP HAIRDRESSING IN AACHEN
YOUR HAIRDRESSER IN AACHEN CENTER
With all the glamor and sophistication, in the Aachen hair salon Hair by Paco, the upscale service is paramount. True to the motto "the customer is king" is here, in a relaxed atmosphere, a high value placed on the detailed discussions with customers.
This is confirmed by celebrities and models that Paco has already embellished in his hairdressing salon in Aachen in large numbers. Fashion show, party or photo shoot - every customer and every customer is individually styled here to a star.

CUT & STYLE AT THE HAIRDRESSING IN AACHEN
THE HAIRDRESSING ROOM WITH STYLE IN AACHEN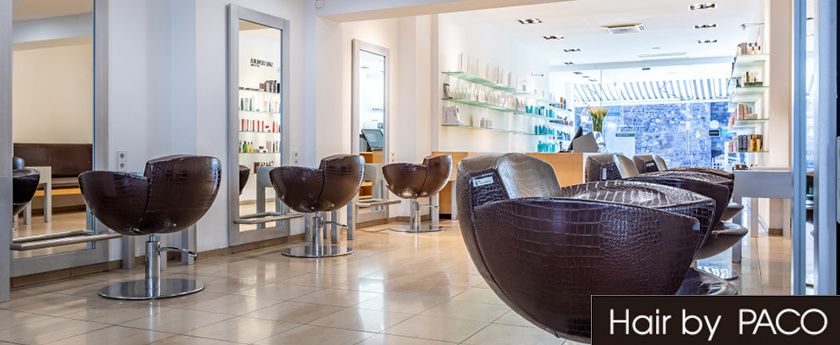 Hair is international. Whether Paris, London or Madrid - each of these fashion hotspots has its own unique charm and trends.

Good to know: Pacos hair salon in Aachen is in no way inferior to the metropolises of this world when it comes to hair fashion. Because: Only a trend-conscious hairdresser is a good barber! The hairstylists in Paco's team know this and take current developments in terms of haircut, dyeing, hair care, hair-color and hair styling targeted.

With the eye on the pulse of fashion time and with the hands in the Aachen hairdressing day-to-day business, Paco's team converts avant-garde hair visions from the big wide fashion world into type-specific and above all wearable "everyday" hairstyles.
(to enlarge, please click on a picture)